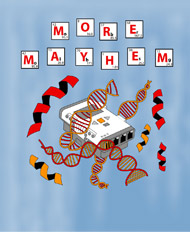 More Mayhem Home Page
We qualified for the NH state finals by winning third place robot design at the Merrimack Mindstorms Madness tournament on November 18. We made it to the semifinals for robot performance, with our best score of 332 coming in the semifinals!
Latest News:
We made a nanotechnology quiz with our big brother team, Mindstorms Mayhem.
Our team has grown to nine members this year!
This site is the property of MAYHEM INC. Any information you give us in any way will be used by MAYHEM INC. only. We will not give any personal information away unless we deem it necessary. Thank you for your understanding.