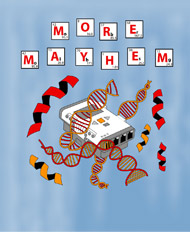 Amy's Profile
Click on the image to go back to the index.
Amy
Age: 11
Grade: 6th
Number of years on the team: 1
What did you learn in FLL this year? I learned that the average scuba diver touches the bottom of the ocean 10-12 times each dive. After they are trained, they only touch it 2-3 times.
What did you work on most this year? I worked a lot on research.
What is your favorite mission and why? I personally like the protective structure mission/crate mission. It is probably my favorite because it is the most reliable. It also is fun to watch because it can get a different number of crates each time.
What are your other hobbies and/or interests? I dance ballet, do Girl Scouts, play the piano, play soccer in the fall and spring, and of course I do FLL!
Is there anything else you would like people to know about you? I absolutely LOVE dogs! I also like to hang out with my friends.