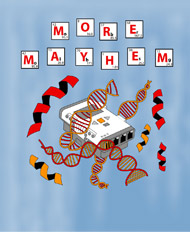 David G's Profile
Click on the image to go back to the index.
David G
Age: 9
Grade: 3rd
Number of years on the team: 1
What did you work on most this year? research, robot building and programming
What is your favorite mission and why? The crates, because it's the mission I run and I have seen lots of good ideas.
What are your other hobbies and/or interests? snowboarding, soccer, running, going to FLL tournaments, sleeping, playing in the snow, going places, and LEGO.
Is there anything else you would like people to know about you? Last year I was on a JFLL team and learned MLCAD.