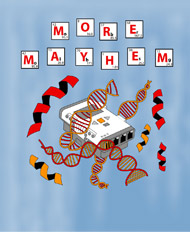 David J's Profile
Click on the image to go back to the index.
David J
Age: 9
Grade: 4th
Number of years on the team: 1
What did you learn in FLL this year? I learned that there's more to the ocean than meets the eye.
What did you work on most this year? I mostly worked on the crate mission.
What is your favorite mission and why? My favorite mission is the flag mission because it`s a hard mission to solve.
What are your other hobbies and/or interests? I like snowboarding, baseball, swimming, making snow forts, and reading fictional chapter books.
Is there anything else you would like people to know about you? I'm a vegetarian.