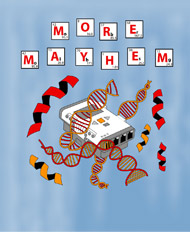 Teddy's Profile
Click on the image to go back to the index.
Teddy
Age: 11
Grade: 6th
Number of years on the team: 1
What did you learn in FLL this year? I learned so many new things that they are all swimming around in my head too fast to pick just one.
What did you work on most this year? Ocean research
What is your favorite mission and why? I can't choose just one - I helped work on all of the missions.
What are your other hobbies and/or interests? Computer, Bionicles, books on tape, soccer and basketball
Is there anything else you would like people to know about you? I love playing with my sisters, Audrey and Nyssa.